[row xclass="sep"]
[column md="12″]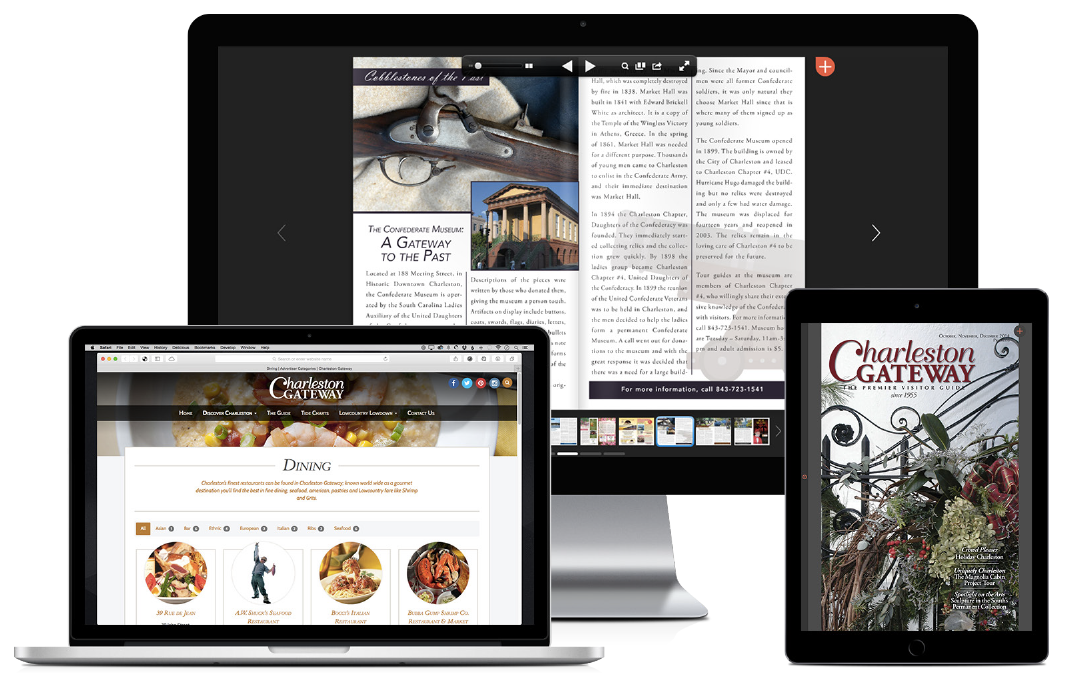 [/column]
[/row]
[row]
[column md="12″]
Get Charleston Gateway…
Your Premier Visitor Guide to Charleston, South Carolina
[/column]
[/row]
[row]
[column sm="4″]
At Your Desk
Follow this link to our online guide. Whether you're planning your visit at home or are already here, you can use the latest issue of Gateway right on your computer. Get the latest information at just the click of the mouse.
Read the latest issue
[/column]
---
[column sm="4″]
On Your Mobile Device
Read Charleston Gateway from the comfort of your own chair. Our visitor information is also friendly to all tablets & smartphones. Just like having the printed piece in your hand!
[/column]
---
[column sm="4″]
Off the Press
Pick up Charleston Gateway from any one of our numerous locations.
Charleston Gateway is available in over 500 locations around the area! You can find them in all area visitor centers, hotels, inns, b&bs, resorts, tours, attractions, restaurants, the airport, shops and just about anywhere a visitor might go. Be sure to tuck it in your bag to help guide you to the best of all there is to see and do in the Holy City!
[/column]
[/row]
---
[text-blocks id="gateway-on-the-go"]