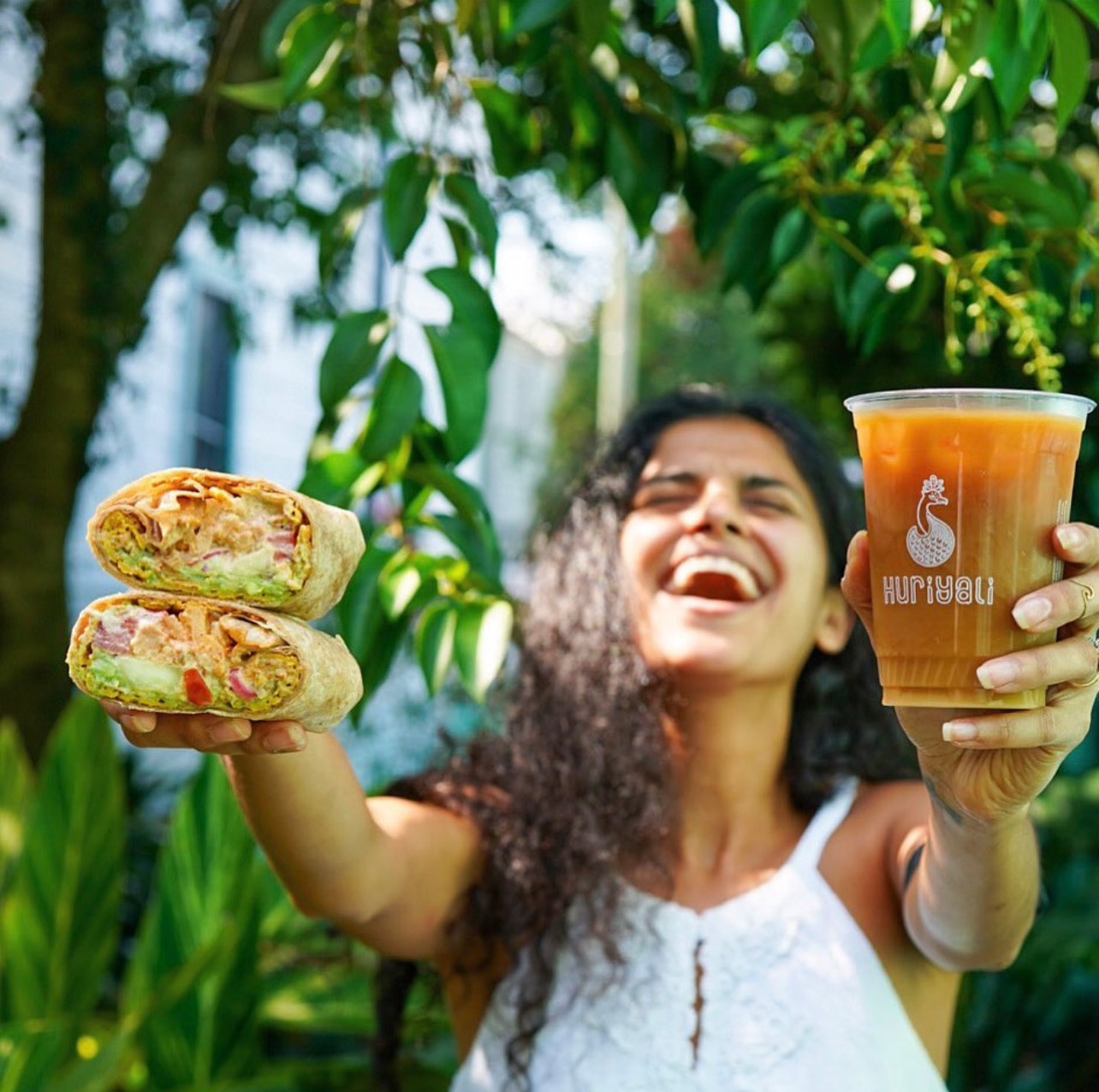 South Carolina may be known for fried meats and seafood, but the new wave of Southern plant-based cuisine has the Lowcountry buzzing.
The food scene in Charleston, South Carolina is one of the first things that comes to mind when many travelers think of the city. Grits. Seafood. Southern-fried anything! All of those dishes speak of the traditions of the South. But what about the vegan visitor? When plant-based tourists plan a trip to Charleston, S.C., do they have any restaurants to be excited about? Absolutely.
The Lowcountry has equally spectacular vegetarian places for you to eat, drink and gather. Dine on the best of Southern infused cuisine, on charming outdoor patios, and in the cutest of cozy courtyards. And those alluring historic buildings? You can enjoy a fantastic vegan meal or nosh in those, too. The city's treasured beauties house many vegan cafes, cocktail lounges, and Sunday supper spots.
So go ahead, plan the Charleston trip you always wanted — the Old South embraces dining in fresh new ways you won't soon forget. When you visit, you too will be nourished by passionate foodie folks who are ready to welcome you with flavors as memorable as their hospitality.
Here are some of the best vegan restaurants in Charleston, SC: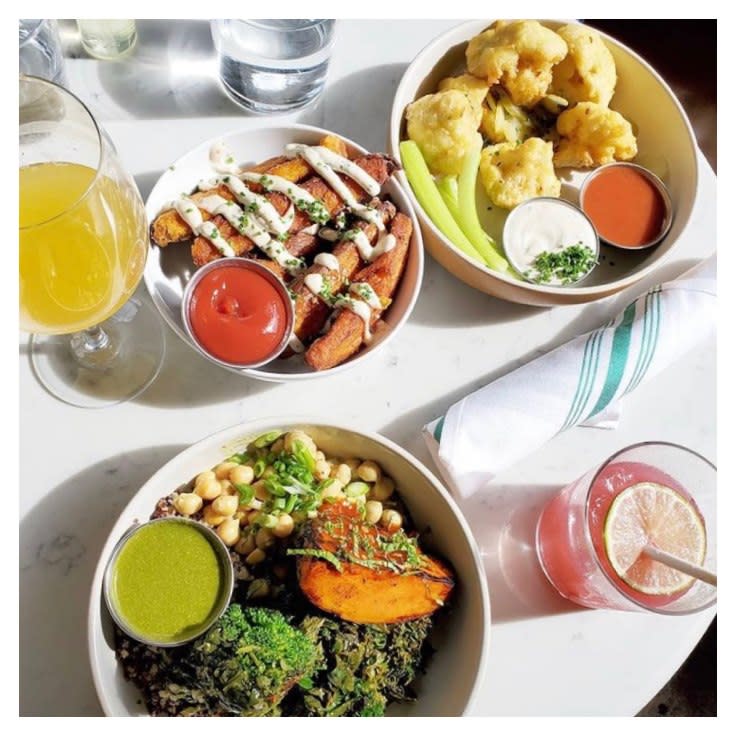 BASIC KITCHEN
"Simple, seasonal, and delightful dishes" is the mantra from Basic Kitchen, (82 Wentworth St.) a lovely vegan hotspot near the College of Charleston campus that is anything but basic. This warm, welcoming spot — with a soothing plant-laden courtyard — is the both perfect brunch spot with friends, or stealing a quiet solo reprieve. Stop in for the Green Curry Bowl with cauliflower, broccoli, potatoes, cabbage, red peppers, brown rice and bok choy. Or go for pita with mung bean falafel, kale, charred scallion dressing, and sumac onions. Be sure to try one of their signature cocktails too; our favs are the Beer Margarita and Sunshine Superman with rum, pineapple, and coconut water.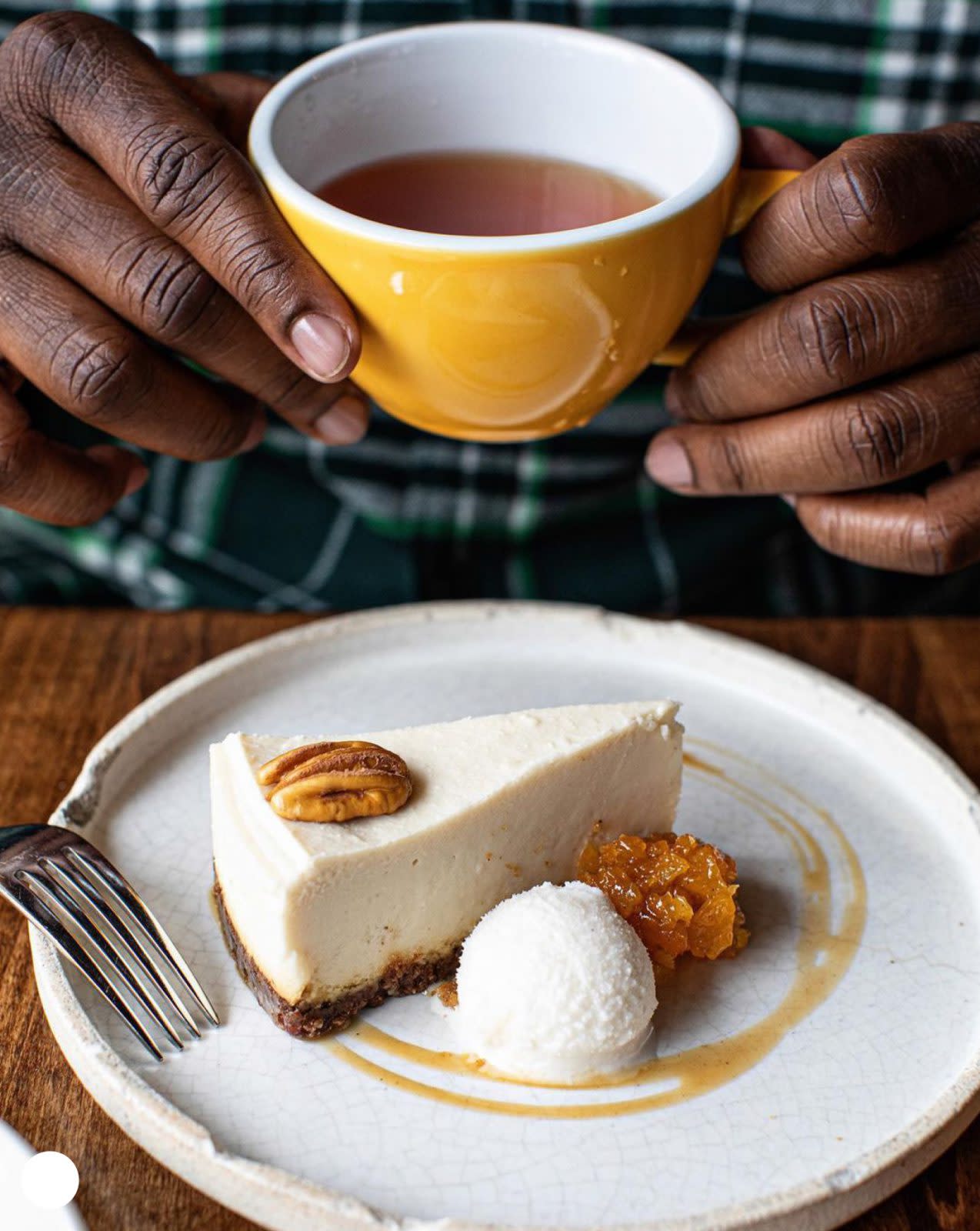 BUTCHER AND BEE
Known for its locally sourced ingredients that lend bursting flavor to each dish, Butcher & Bee (1085 Morrison Dr.) believes supporting local and sustainable food isn't a slogan, "It's the right thing to do." Touting fine dining quality across all menus, vegan foodies rejoice at the extensive selections.
If you're up for imbibing along with your fare, try the Buzzed Shaved Ice; we like the Leafcutter, with gin, chartreuse, lime, mint. Beer, cider, and wine selections are equally creative. Prefer no alcohol? No problem with a full espresso bar or Buzz Free concoctions like Lavender Lemonade.
The cheery bustling environment lends to sensory satisfaction on every level. Feast your eyes and your belly with creamy whipped feta dip, served with honey and pita chips; add a Mezze serving of Celery Root Socca with smoked celery root tahini, winter greens, and chili oil. After your taste buds are in full swing, dive into an Anson Mills Brown Rice Bowl, complete with seasonal vegetables, miso almond butter, turmeric onions—avocado optional.
For a heartier plate, don't miss the Messy Veggie Burger & Fries, served with caramelized onions, B&B pickles, and cashew cheese, on a seeded roll. Try, just try saving room to sample something from their all vegan dessert menu. After lunch, head further into NoMo to visit the growing cadre of craft breweries.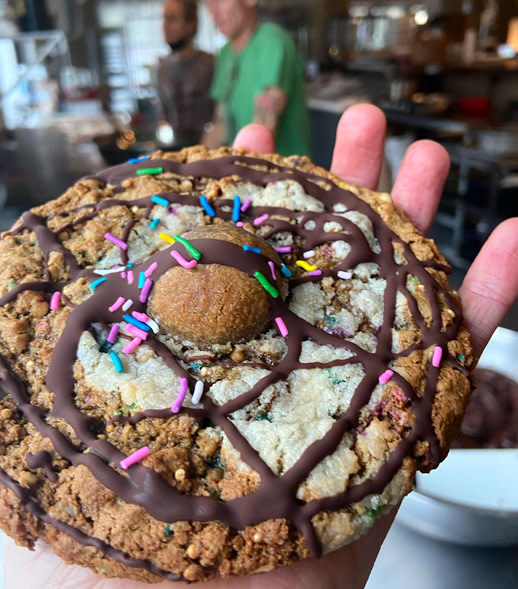 CAFE OF SWEET ABUNDANCE
How could you not want to eat where the tagline reads, 'Everything is Covered in Chocolate Year-Round?' Cafe of Sweet Abundance (1901 Ashley River Rd.) is so sure your chocolate cravings will lead you to that perfect vegan meal, they've drizzled chocolate colored paint down the exterior walls of its building to lure you in.
So, in you go, jonesing for the sweet treat that vacation memories are made of. Out you roll, full from a cornbread waffle, iced coffee, and the ultimate strawberry-chocolate creation. Cafe of Sweet Abundance is that all-around great vegan restaurant that offers one tempting dish after another. Here are two must-try vegan gratifiers we love:
Mama Lucia's Savory Cornbread Waffle — a Geechie Boy cornbread waffle with Miyoko's cheese, Besto Pesto, savory granola, MacDaddy butter, and macadamia nuts;
Strawberry Shortcake in a mason jar — yellow cake piled with strawberry cream, strawberries, chocolate chips, chocolate magic sauce, chocolate drizzle, and a chocolate-covered strawberry.
Don't miss their Big Kick Coffee Charleston, hot or iced. Take-out is always an option if you wanna sweet nibble while en route to visit the beautiful gardens and former plantation sites along Ashley River Road.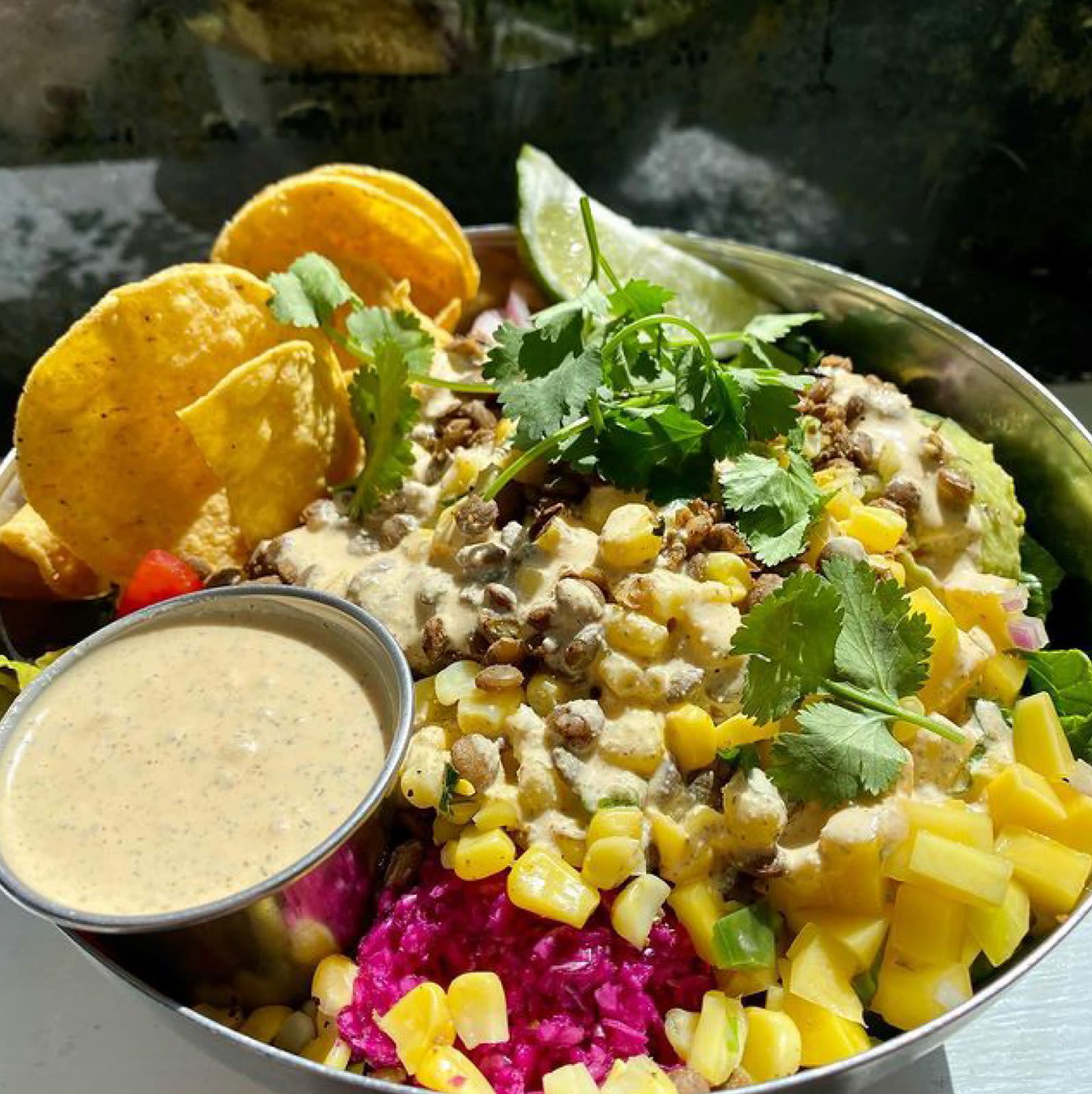 GNOME CAFE
Gnome Cafe (109 President St.) offers vegan versions of many favorite Southern dishes and creates a few new ones too, all made with flavorful and quality ingredients. Breakfast and lunch show how satisfying vegan food can be. Dessert? Absolutely! The sweets are over-the-top indulgences you won't want to miss. Plant-based food is at the heart of the menu, but Gnome folks have a passion for coffee too, brewing the perfect cup to sip for sharing time with family and friends.
What are our favorites to order? Oh, choices, choices! Cinnamon pancakes start your day off right. Topped with strawberries and served with Portobello 'bacon' and home fries, or opt for the Southern Grit Bowl made from Geechie Boy grits, sautéed kale, tofu scramble, and vegan bacon. Lunch calls for the Fried Seitan Sandwich. Top off your meal with the Lamington, a vanilla cake square rolled in chocolate glaze, and shredded coconut. OMG! Leave with a satisfied belly and a cup of Local Stumptown Coffee.
Whether you go for breakfast, lunch or take-out for a handy prepared dinner, you'll be ready for some sightseeing. Gnome Cafe is ideally situated for a healthy stroll to Hampton Park or a walking tour of the Harleston Village neighborhood.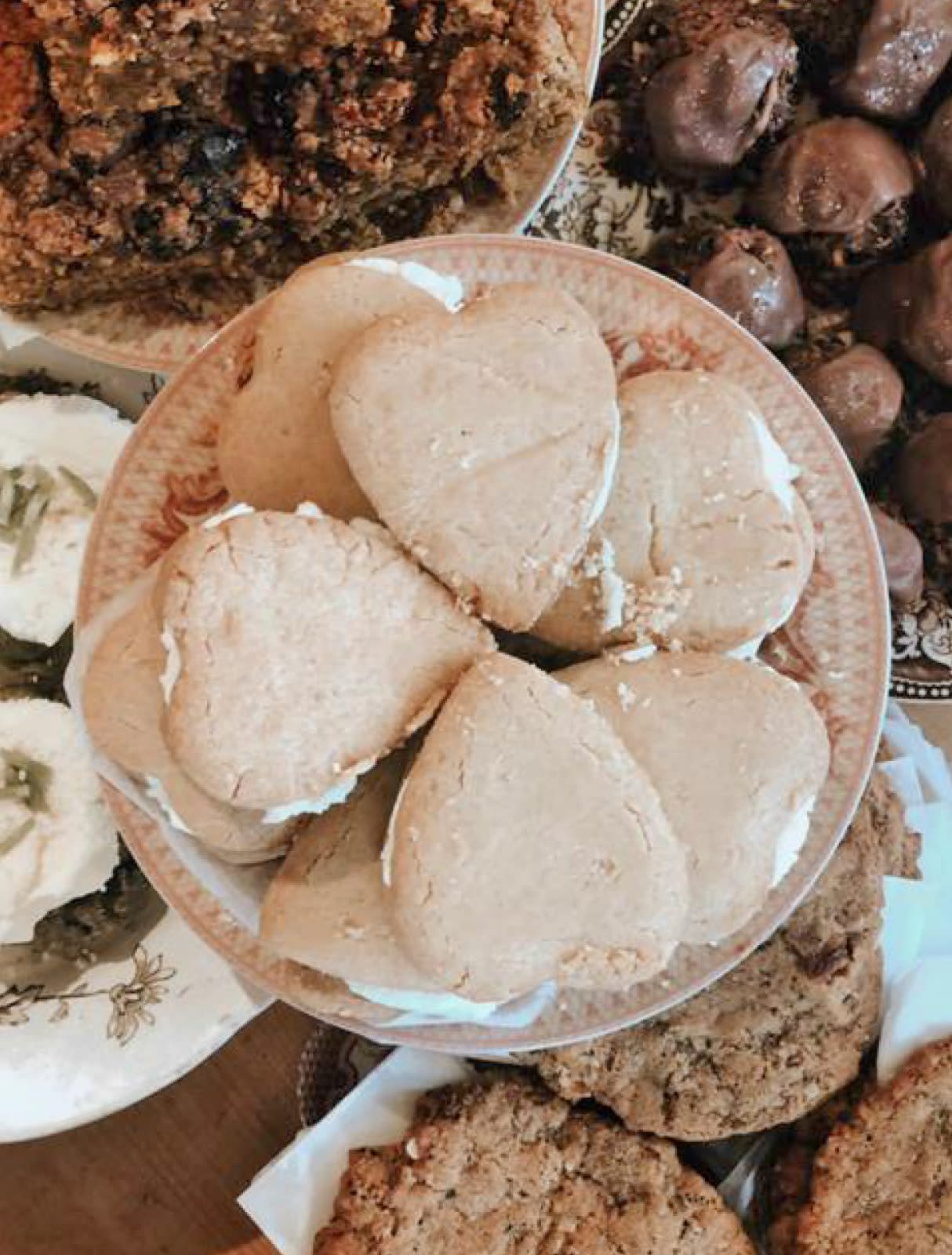 HARKEN CAFE
One of the best kept locals' secrets, the quiet and charming Harken Cafe (62 Queen St.) is a special place for a satisfying vegan breakfast before exploring the infamous City Market, Gibbes Art Museum and French Quarter neighborhood. For an authentic taste of the Chucktown, try the Bonjour Charleston parfait with maple cashew granola, sweet potato souffle, and almond milk. Up for a little more spice? Dive into the Open Sesame, prepped with rosemary chili oil, sesame tamari, and semolina toast, all served with a healthy house salad.
Available all day but especially tasty for lunch, Harken whips up daily varieties of Slab Pie; grab a hefty slice of vegetarian served with a salad side. Carnivorous companions love the meat options too. Don't miss pairing any meal with one of the Harken's impressive cold brews, macchiatos, or cappuccinos.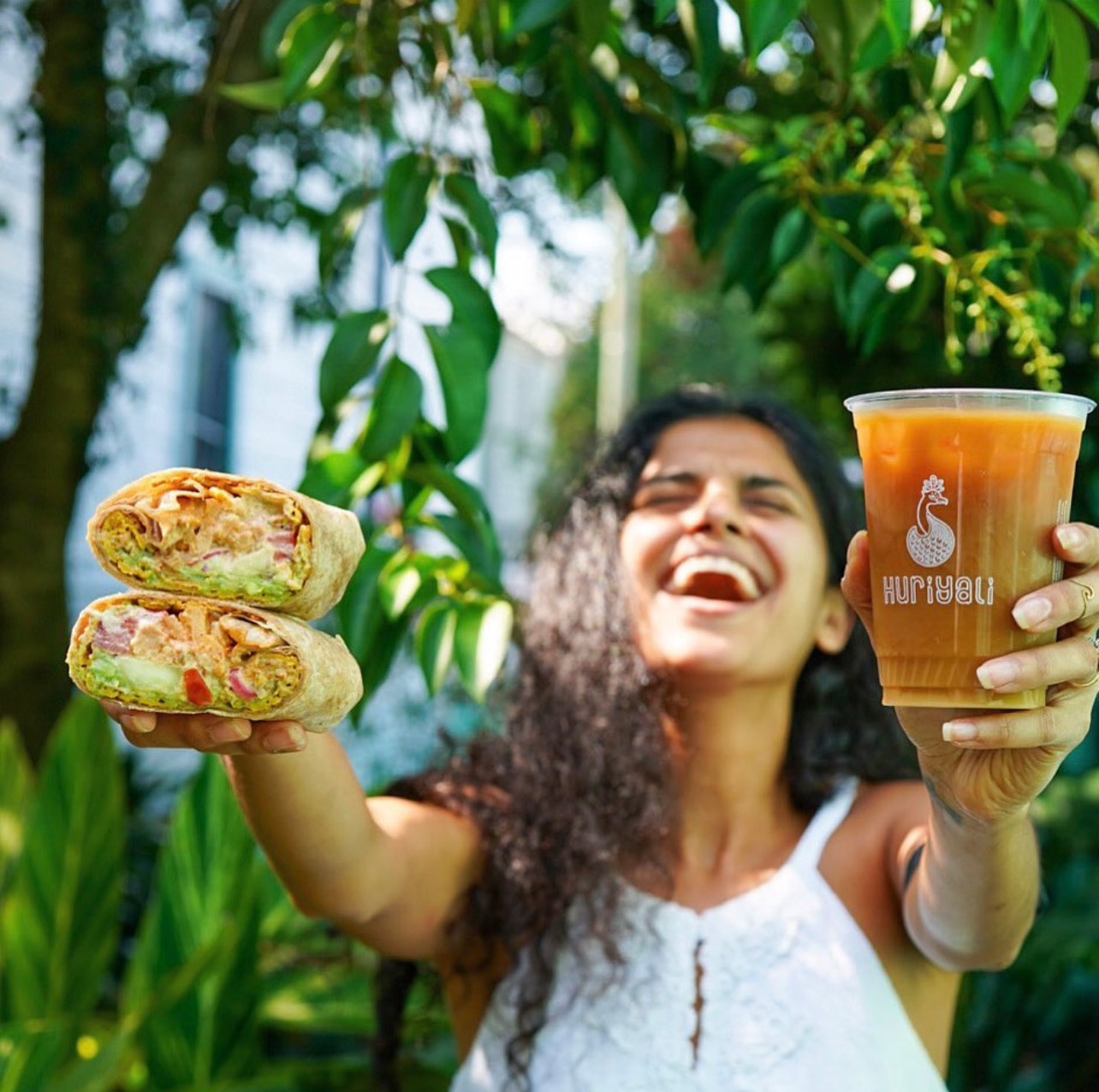 HURIYALI
A few steps away from Hampton Park near the Wagener Terrace neighborhood, Huriyali (401 Huger St.) is a colorful little coffee shop enticing retreat away from Charleston's bustling downtown center. Are you a morning person with energy to burn? Hop on your bike and pedal to their rewarding breakfast sandwich made with a sprouted grain bun, chickpea patty, tempeh, vegan cheese, avocado, greens, and a grilled tomato. Prefer to sleep late? The must-have lunch dish is Huriyali's signature vegan barbecue sandwich — made with house-made oyster mushroom "meat," fresh barbecue sauce, peanut slaw, and pickled veggies on a sprouted bun. Other tasty choices include smoothies and fresh savory or sweet acai bowls, presented with such artisanal appeal they're almost too beautiful to eat.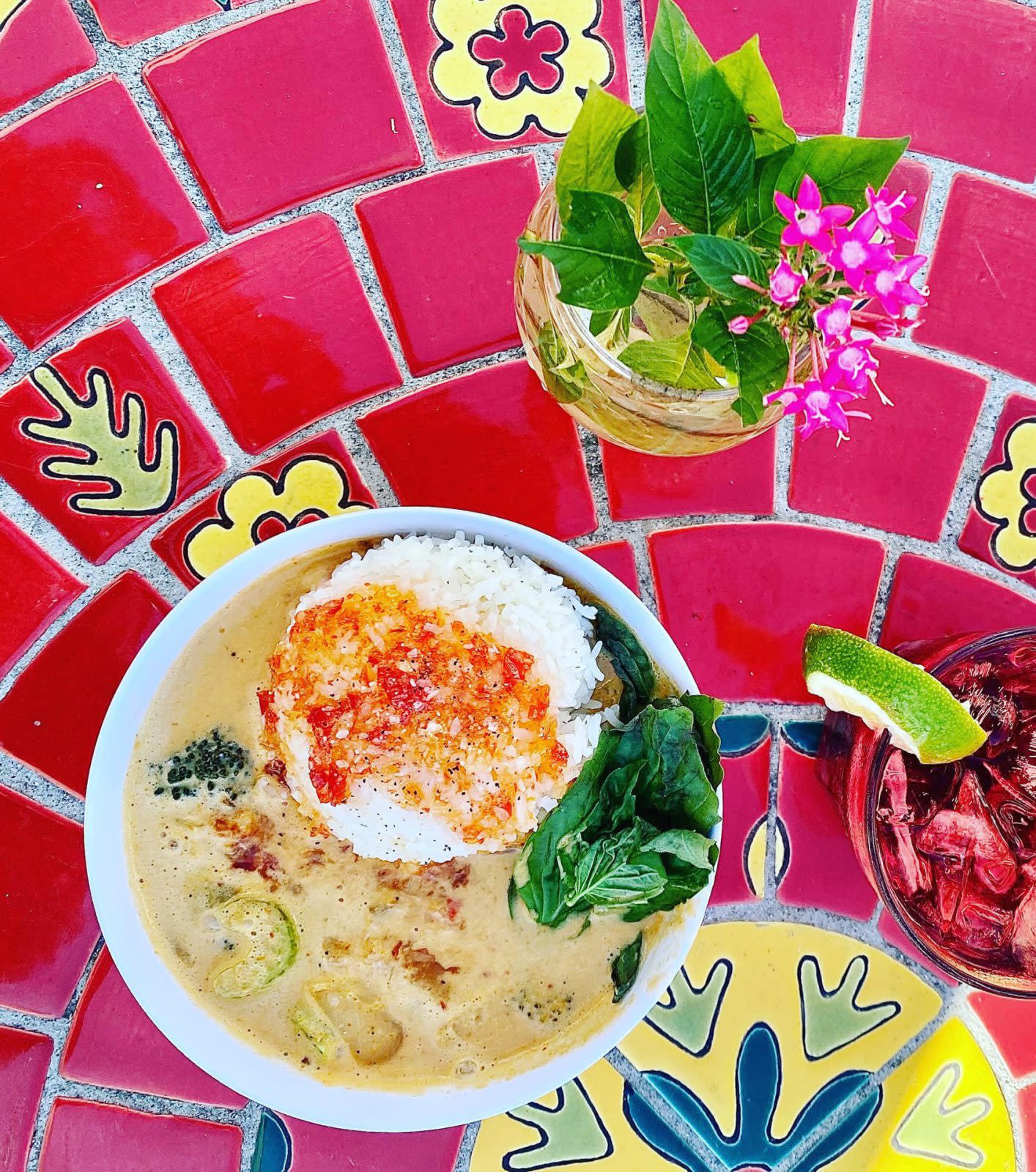 JACK OF CUPS SALOON
Beach bummin' your way to good health? Head over to Folly Beach for some "globally-inspired comfort food, made with love." Just a quick stroll from the ocean, Jack of Cups Saloon (34 Center St.) is a lively earthy spot with one of the more creative menus in town, often influenced by Asian and Indian flavors.
Their new menu includes three different curries. Vegans, vegetarians and omnivores alike find tempting choices, often encouraging friends to order different dishes to share family style. The "Vegan Dinner" is a daily highlight, with pan-fried ravioli and karee spiced sauce with carrots and coconut, topped with almonds and parsley. Pair your preference with a selection from the saloon's excellent beer, wine, and spirit menu. A welcoming back courtyard whisks you off the street while fun front sidewalk booths lend to the beach vibe.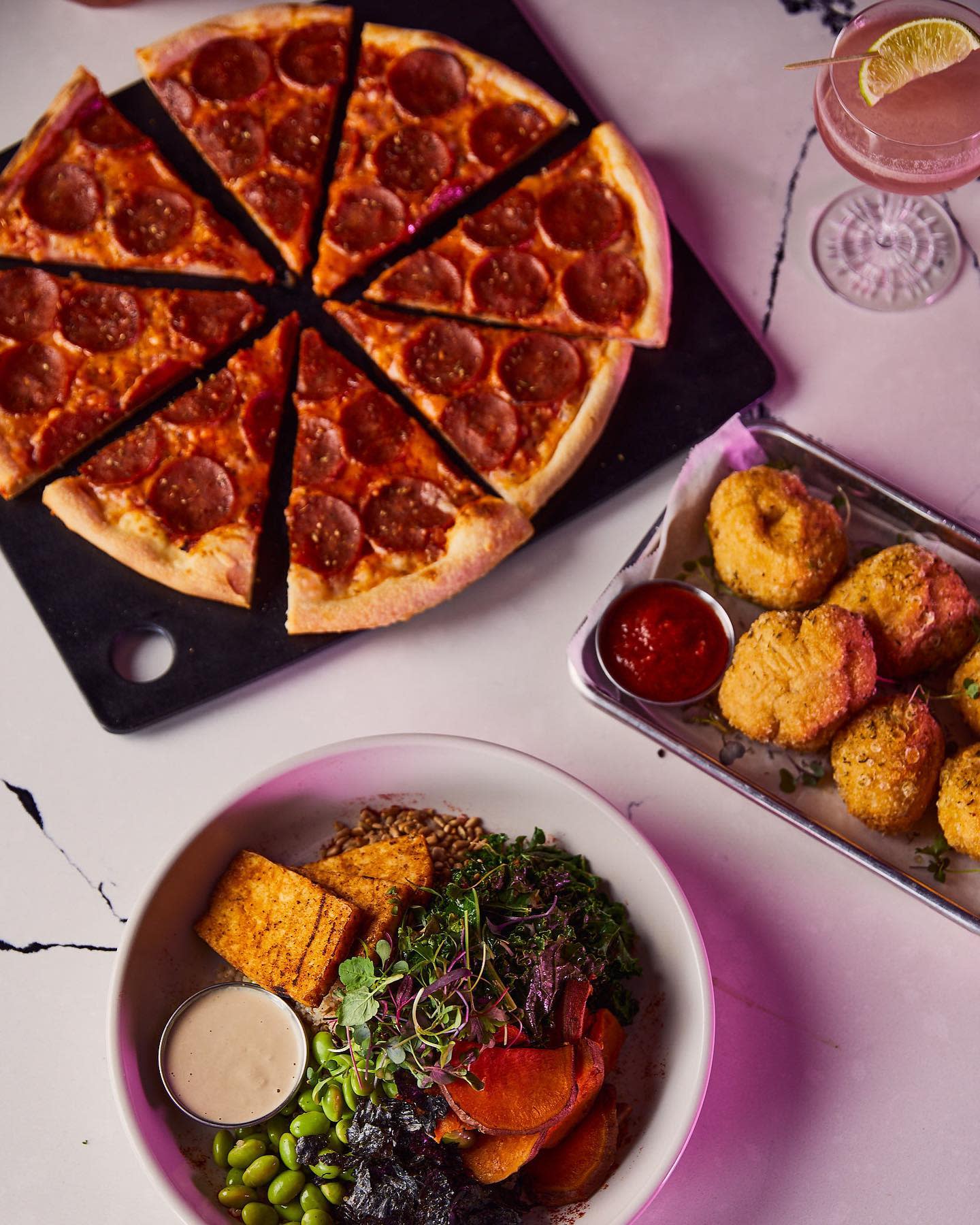 NEON TIGER
Craving comfort food? How about pizza? Washed down with a pint of local craft beer, of course. Neon Tiger (654 King St.) is a vegan pizzeria that doubles as a cocktail lounge. It's new on the foodie scene but knowingly embraces key tenets of old-working cooking (raise hands high for their use of zero flour in their pizza crust!)
The menu includes specialty and classic pizzas as well as salads, sides, spirits, and sodas. Add soy bacon or seitan pepperoni, and pile on the veggies — local produce takes center stage on these premier pizza pies. We love the Formaggio and Champignon pizza with mozzarella and parmesan, potato cream sauce, caramelized oyster mushrooms, baby arugula, and truffle oil. As if we need to say…. it's simply scrumptious. We suggest a small pie so you've got room for an order of Crispy Konjac Shrimp served battered and fried, with chipotle aioli. Don't forget a glass of rosé or craft cocktail.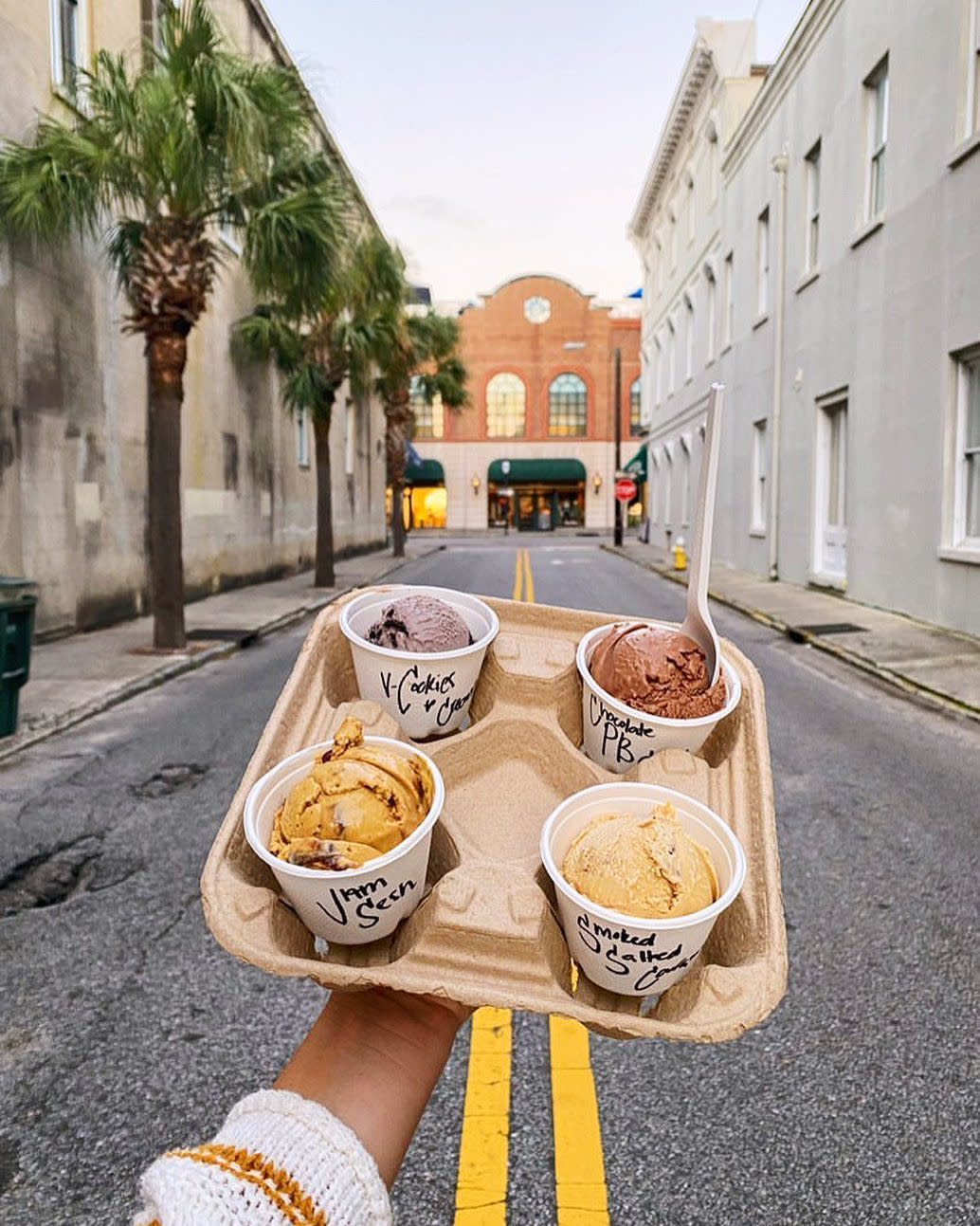 OFF TRACK ICE CREAM
How do plant-based eaters get their ice cream fix? Vegan ice 'cream' of course. With its special blend of cashews, organic coconut cream, sunflower oil, and cane sugar, Off Track Ice Cream (6 Beaufain St.) keeps your vegan diet on track. While waiting for your scoop (or two!), watch a batch in process through the facility's huge floor-to-ceiling windows.
Vegan flavors range from traditional vanilla bean, chocolate peanut butter swirl, and cookies and cream to concoctions like fluffernutter blondie, Nutella babka, and golden milk snickerdoodle cookie dough. Traditional ice cream is also sold.
These are just some of the great vegan restaurants and dishes that await a trip to Charleston, SC. No matter your food preference, we're always updating the latest and greatest Lowcountry foodie offerings — from vegan to herbivore, café's to 5-star —including new openings, special menu offerings, gastronomy events and more. Follow our Insta and Facebook links below to see them all!
---
Please be sure to contact each establishment to verify opening hours, reservation policies, health requirements, and any other variations.